Please read also our Terms & Conditions and Pricing policy.
What to bring
A study pair of boots 🥾
A suitable clothing 👖
Gloves 🧤
Camera 📸
Snack and drink 🍿
When you book
We'll email you your voucher which is valid for a whole year. When you're ready, just call us to book your experience. But don't leave it until the last minute! Remember paragliding is weather dependent, so you may need to try more than once.
The night before
Call us the night before your booking to check the weather for the next day and confirm if we're able to go ahead. We'll also confirm where we're meeting as the site depends on the wind and weather.
Tel.: Owen Latham 07787 172 093
On the day
Bring some warmer clothes as it will be colder up in the air than it is on the ground. You'll need good boots. You may also want to bring some snacks or drinks with you as you may be waiting for a while until the conditions get just right.
On the site, we'll fit you with a helmet and harness and show you everything you need to do.
When the conditions are right, which depends on the day, we'll have the flight. Remember to talk to your pilot about what you want from the flight – a gentle float about, or the chance to experience acrobatic flight. You can even have a go at flying the glider yourself if you want to!!
Afterwards
You'll be able to buy a DVD of your flight. We'll tell you more about this on the day.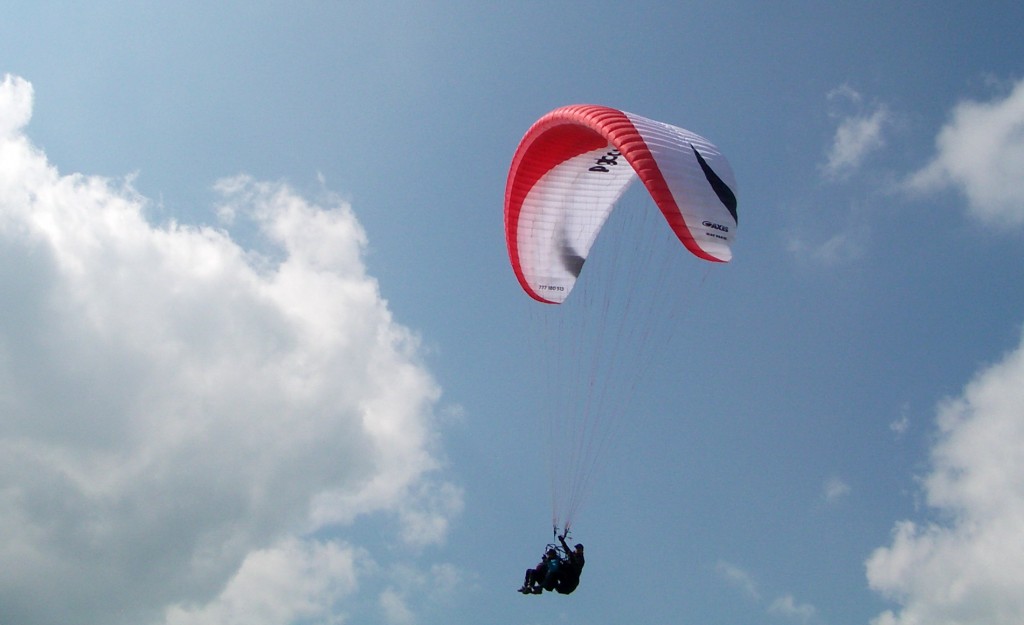 FAQ
Q: Who can do it?
A: Flying is for everyone! Our oldest passenger so far was nearly 100 years old! Anyone under 18 needs written parental consent.
Q: How fit do I need to be?
A: You just need to be able to take a few steps on take-off and landing, and spend the rest of the time sitting comfortably in the harness. We can accommodate most people's needs, so if you have any concerns, just contact us first.
The BHPA (British Hang Gliding and Paragliding Association) operate a flyability scheme that subsidises people with various disabilities. I fully support this scheme and if possible will fly people with disabilities. Please ring and have a chat to find out more.
Q: Is it dangerous?
A: Yes. There is an element of risk but done correctly the risks are lower than that of horse riding, skipping or even crossing the road. Our pilots have worked all over the world flying tandems and have made thousands of flights. Your safety is our first priority.
Q: I'm scared of heights. Does that mean I can't paraglide?
A: No. A lot of pilots claim to be scared of heights. For most people, the moment we are airborne, fear and anxiety vanish.
Q: Some schools charge less than you. Why?
A: We guarantee a 20 minute flight, but it is often more. We also offer good discounts for students or groups. Contact us if you want to know more.
Q: How long does it take?
A: We guarantee at least 20 minutes flying time although it is usually more like half an hour depending on the conditions and number of bookings. I recommend you set aside at least half a day so we can wait for the conditions to be just right. Also one of the sites requires a gentle half hour walk to the launch.
Q: Where do you usually fly?
A: All our flying sites are in East Sussex between Devil's Dyke, just north of Brighton in the west of the county to Beachy Head which is right beside Eastbourne. The site we fly is determined by the wind direction and strength.
Q: Why should I choose you?
A: Check out some of the videos and photos of the people we've flown – they speak for themselves! All our professional pilots do is tandems, flying all over the world. It is YOUR day. You won't find yourself being juggled to fit into the schedule of a school that is trying to teach students who are learning to fly themselves. We honestly believe we offer a better and more fun experience than the other operators!